Norwood, HU17 9EX, UK Beverley
+44 (0)1482 881658

Welcome to our latest Web site. It is currently being updated with information about the school, staff and students. You can find examples of student work, results, job vacancies at the school or link to the organisation for past students.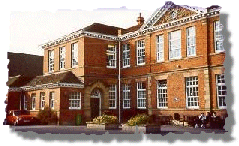 The school is an 11-18 comprehensive school with a mixed joint sixth form with Beverley Grammar school. We have been a specialist school for Technology since 1998. Our 3 year plan for 2005 - 8 aims to improve teaching and learning further.
Our new sports hall opened in September 2006 and is a fantastic addition to our facilities. We are now finalising plans for the new Art and Technology block. These buildings will make a substantial contribution to improving the learning environment.
We value your views and comments about our website & ask any past students to keep in touch with the school via E-Mail.
---
TECHNOLOGY COLLEGE STATUS
The school has been a Technology College since September 1998. This means that Science, Mathematics and Technology have additional funding to support their department development plan, and with Information Technology, further develop links with partner primary schools and provide more opportunities for the community.


International Schools Award (Click to see the Article)
In August 2003 the British Council awarded the school the International School Award in recognition of the international dimension in the curriculum. All departments in the school are encouraged to incorporate this dimension with their Schemes of Work. Opportunity for curriculum development exists with our link school, Keiai High School in Chiba, Japan. Teachers from the school have also taken part in TIPD visiting schools in Sweden and more recently Sri Lanka.
The tutor groups are used as teaching groups in the Lower School.
In Years 7, 8 and 9 all girls follow courses in:
Art

Music
English

Physical Education
Geography

Religious Studies

History

Science
Mathematics

Technology

Modern Language

Information and Communications Technology
Teaching takes place in mixed ability groups, apart from Modern Languages and Mathematics where ability groupings are used. There is a planned programme of Personal and Social Education (PSE) which is taught in tutor groups by form tutors.
The PSE programme covers a different range of personal and social skills, as well as further developing those already acquired, with increasing emphasis on careers guidance. Teaching takes place in a combination of mixed ability and ability groupings to suit the preferences of individual subject areas. In the latter half of Year 9, parents, pupils and subject teachers are involved in decisions regarding examination courses for Years 10 and 11.
Pupils in Years 10 and 11 follow a broad range of courses which currently are:-
Examined by GCSE

English - all follow Language & Literature courses

Mathematics

Science - Dual Award

Foreign Language - French or German

Technology subject - Food

or Textiles

or Graphics

or Product Design
and Information and Communications Technology leading to the ECDL qualification and British Computer Society IT User certificate.
| | |
| --- | --- |
| Not Examined | Religious Education |
| | Physical Education |
| | PSE - including Careers Education & Guidance |
Pupils will also be able to choose one option from a range of GCSE courses which include:-
A second Foreign Language (offered as a twilight course)
The majority of students follow 9 GCSE courses.

Sixth Form (Years 12 and 13)

In September 1978 the Sixth Form was linked with our neighbouring boys' comprehensive, Beverley Grammar School. There are currently over 260 students in the Joint Sixth. The teaching in nearly every advanced level subject is equally shared (4 + 4 periods) between the staffs of both schools. The scheme carries the advantages of widening the range of courses, provides larger numbers in teaching groups and a livelier academic life. Both schools have a lengthy and successful experience of sixth form work and students have benefited from this pooling of resources. Many students continue to Higher Education, including Oxbridge.

Choirs, orchestras and games teams practise on a regular basis in the lunch hour and after school as do members of the cast of school plays and operas. Lunchtime clubs, societies and activities apart from these often include the junior gym club, environment club, trampolining, computer club, drama club, technology club, competition gym club, wind band, Christian Union, weekly charity fund-raising efforts, as well as hockey, netball and athletic clubs.

Management and Development Issues

There is a pre-planned programme of meetings which encompasses departments, pastoral teams, Heads of School, Heads of Department, the Senior Management Team, and SEN Link groups. In addition tasks groups are used to address specific issues when a need is identified. The School Development Plan is focused currently on improving teaching and learning. Each department or team contributes to this plan which is reviewed annually.



primary schools in Beverley, secondary schools in Beverley, schools in Beverley